What is ORMUS?
In the simplest of terms, ORMUS is the spirit of a substance. For a substance to qualify as ORMUS, it must have a very high vibration, and be have beneficial effects on upon complex living structures. These would include plants, animals and people.
The rediscovery of ORMUS in our modern day occurred when a man named David Hudson was attempting to extract gold from his soil and ended up with a white powdery substance that turned out to be a precipitate of gold. This powder was dubbed to be White Powder Gold, also known as the Philosophers Stone.
Some claim that White Powder Gold or ORMUS Gold helps open consciousness for intuition and other insights of a spiritual nature. The name ORMUS is derived from the acronym for Orbitally Rearranged Monoatomic Elements, or ORME's.
White Powder Gold is one type of ORMUS, but there are many more sources, and they each express as different qualities in the body.
High state ORMUS can be extracted (or collected) from gold, the platinum group metals, sea salt, Shilajit aka Moomiyo, trace minerals, and wheat grass juice powder.
Well-Being ORMUS
We collect the vibratory ORMUS signatures from all of the above substances and imprint them into purified water saturated with trace minerals, to make our Well-Being ORMUS formula.
The goal is to provide a healthy tonic that is a whole body experience and designed to bring balance to the whole person on all levels, mentally, emotionally, physically, and spiritually. Our customers, who repeatedly purchase Well-Being, are evidence of success with this goal.
We only imprint the bio-energetic ORMUS signatures; there are no physical ORMUS substances present. This makes for a much sweeter, gentler feeling. Also, by only using the highest vibrational signatures, we eliminate the unpleasant side effects that some have experienced with ORMUS.
This seems to leave the "strange" ormus qualities behind and provide us with a very sweet feeling formula. That is why it is called Well-Being.
See
Our Process here.
$29.95


Free Shipping in USA





NO QUESTIONS 30 DAY MONEY BACK RETURN POLICY. See it here.

Contains no:
Gluten, soy, binders, fillers, carriers, artificial colors or artificial preservatives.
Disclaimer:
This product has not been evaluated nor is it intended to diagnose, treat, cure or prevent any disease. Always seek the advice of a physician or other qualified healthcare professional regarding any mental or physical health condition or treatment. Sold for experimental purposes only.
Ingredients:
Purified water, trace minerals. Imprinted vibrational signatures become fully bio-available upon consumption.
Suggested Use:
1 - 3 half droppers (15 drops = 1/2 dropper) sublingual. Shake before use.
Warning:
Do not use if pregnant or nursing or under 18 yrs of age. Keep out of reach of children.
Customer Comments
Customer comments are provided for informational purposes only and reflect solely the views and opinions expressed by the contributors and not those of Ion Wave Formulas. We do not verify or endorse any claims made in these comments.
Fatigue
I'm prone to fatigue and have tried many alternative and pharmaceutical products to seek a remedy. However none has ever worked on the same level as Well-being Monoatomic Gold/Ormus. On the first couple of days upon taking it according to instructions, I felt no change. Miraculously during the third and fourth day, I felt changes beginning to stir within my body system. It's difficult to describe but began feeling better. I haven't concluded 30 days of consuming the product but would say I have confidence in its healing properties.
Hip pain goes away.
My husband had prostate cancer which spread to his hip and was treated with radiation. Ever since, the hip has been very painful. Someone gave us a bottle of Well-Being Ormus, now the hip pain has gone away. If he stops taking it the pain returns.
Works for me.
Been using this for about 1.7 years. I truly believe there is something magical about this product. I really think it has changed my life for the better. My intuition seems to be much stronger, I have a feeling of well-being, my life has manifested some great things in the last 1.7 years and I believe this product helped that process tremendously. In addition it seems to have opened up my mind in a way that I really can't explain in a few words. Great stuff, hope it will always be available.
A gentle yet big miracle in a bottle!
This is a wonderful product! I was excited to see this and after trying it out for 2 days now I can really see a difference in myself! It has helped stabilize my moods and practically has taken away my anxiety! I feel calmer and connected when I talk to people. I really appreciate this product and how it has helped me feel good, calm and collected. This has also helped with my ability to stay focused on my intentions for the day.
Yes, it really works!!
I must admit I was somewhat skeptical of Ormus at first, but wanted to see what the hype was about. I felt a warming and highly comforting sensation throughout my body with my very first use. It was a bit strange, almost scary how "different" I felt. It's hard to describe, like a buzzing, calming energy throughout my body. I wasn't sure if this was a placebo-effect or not but I had this same effect with the next few uses. I love this product and will continue to take!!!
Energy maintenance and overall well-being.
The Well-Being just makes me feel better - calmer in my outlook and evenly balanced energy throughout the day. ( I am 70+ and active). It doesn't interfere with another product I am taking, a redox signaling product. In fact, I feel it enhances it and supports its effects. I started taking Well-Being, stopped and came back to it. I am glad I did.
$29.95


Free Shipping in USA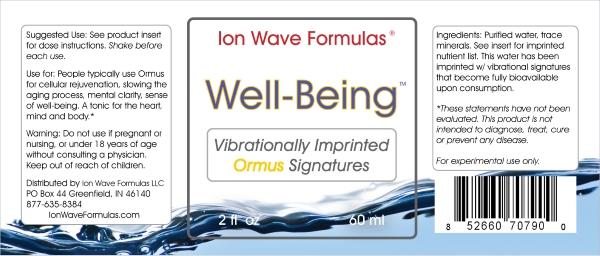 Home | Products | Store | About | Contact | Returns | Privacy