Recover Formula for Immune System Support
Recover supports the immune system without forcing or stressing it into action. The immune system is amazing in its ability to act upon threats to health. Sometimes it needs a boost by various supplement and drug modalities when the threats are overwhelming in nature. But, when this help becomes a flogging that forces the immune system to go too far against its nature, we eventually end up with diminishing returns. This results in a weaker immune system which becomes so overwhelmed that a disease takes root.
With this in mind, Recover is purposely designed to support rather than crank up the immune system. It is designed to work with rather than direct. This allows the immune system is to follow its own wisdom for correcting any imbalances.
When would someone take Recover? At the moment of not feeling well, then keep with it until they recover from that feeling.
Contains no:
Gluten, soy, binders, fillers, carriers, artificial colors or preservatives.
Ingredients:
Purified water, trace minerals. Imprinted with a proprietary blend of 18 nutrients comprised of vitamins, minerals, herbs, amino acids, anti-oxidents, that become fully bio-available upon consumption.
Suggested Use:
2 half droppers (15 drops = 1/2 dropper) three times a day during severe illness. Less according to need. Shake before use.
Warning:
Do not use if pregnant or nursing or under 18 yrs of age. Keep out of reach of children.
Disclaimer:
This product has not been evaluated nor is it intended to diagnose, treat, cure or prevent any disease.
Sold for experimental purposes only.



$24.95


Free Shipping in USA



Customer Comments
Customer comments are provided for informational purposes only and reflect solely the views and opinions expressed by the contributors and not those of Ion Wave Formulas. We do not verify or endorse any claims made in these comments.
Recover Lives Up to Its Name
I had been taking all kinds of super supplements and I mean the very best, most powerful, most organic, natural, etc. for a nasty condition, like a fungus, I think. But in the middle of all that, I started getting a cold and tried Recover. Not only did it knock out the cold within 24 hours, it helped knock out the condition for which I was taking the other supplements. Still not sure what I had, just glad it's gone.
My Kids Ask for It
Whenever the kids come home from school feeling poorly they say Mom give me the stuff that tastes like water, I give them one or two droppers and they don't seem to get sick after that. This stuff works!
Chemotherapy
This product makes a big difference for me and feel it is keeping me going as I go through chemotherapy treatments for my cancer.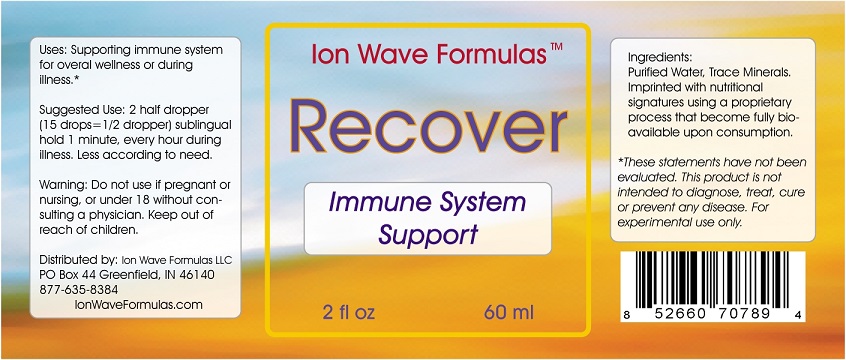 Home | Products | Store | About | Contact | Returns | Privacy