Lifter Flower, AC/Diesel Terpenes, CBD-CBG 1000mg
Broad Spectrum
33.3mg per 1ml dropper, CBD-CBG ratio 7-1.


| | | | |
| --- | --- | --- | --- |
| | CBD | 66.3% | 22.08mg |
| | CBDa | 15.3% | 5.09mg |
| | CBG | 11.5% | 3.83mg |
| | Terpenes | 6.9% | 2.03mg |
Why Lifter flower and AC/Diesel terpenes?
Users of these hemp profiles typically report better focus and mental clarity, along with more physical energy as compared to other hemp strains. Bottom line, this is more of a daytime formula for busy people who wish to focus on the task at hand.
We've collected the vibratory signatures from the source materials listed in the
COAs
, and imprinted them into organic grapeseed oil to make our Lifter AC/Diesel formula.
"Everything in life is vibration."

"Everything is energy. Match the frequency of the reality you want and you cannot help but get that reality. It can be no other way. This is not philosophy. This is physics." -Albert Einstein

We live in a vibratory world; why not take advantage of it?
Our process
only picks up the highest vibrational elements; this leaves the coarse, low vibration portions behind. This results in a sweeter formula for users, when compared to those products with only physical elements.
There are many in the CBD arena that feel only a "full spectrum" product with THC will be effective in the many areas CBD users benefit. We disagree and have removed all forms of THC from the source materials. In addition there are many who cannot take THC due to adverse reactions or work requirements.
We feel our formula shows that the proper mix of source ingredients (Lifter flower, AC/Diesel terpenes, and CBD, CBG isolates) make it as effective as full spectrum products. These benefits are accomplished without the unpleasant side effects that some have reported when THC is present in full spectrum CBD products, even if in minute amounts.
Raw hemp flower has high levels of CBDA, terpenes, and all the natural co-factors and cannabinoids found in hemp. The base of our formula is built upon this natural foundation. We've added extra CBD and CBG isolates, and even more terpenes. This makes for a complete broad spectrum formulation with an entourage effect that enhances it.
CBG is typically found in very low quantity in hemp. Due to its many benefits we've designed this formula to have a CBD-CBG ratio of 7-1 for those seeking to benefit from it, at an affordable price.
We only imprint the bio-energetic hemp signatures; there are no physical hemp substances present in any of our products.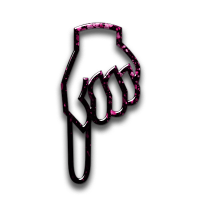 Download COAs here.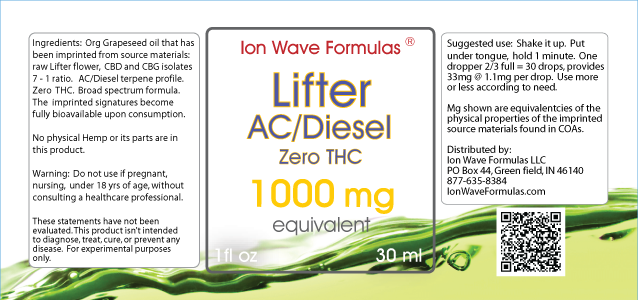 Batch numbers:
Regarding batch identification numbers. Due to the way our equipment works, we can use the same source materials many times over. From time to time we refresh this source material and update COAs when this occurs.
Contains no:
Gluten, soy, binders, fillers, carriers, artificial colors or artificial preservatives.
Ingredients:
Organic grapeseed oil. Imprinted vibrational signatures become fully bio-available upon consumption.
Suggested use:
Follow suggestions on product.
Disclaimer:
This product has not been evaluated nor is it intended to diagnose, treat, cure or prevent any disease. Always seek the advice of a physician or other qualified healthcare professional regarding any mental or physical health condition or treatment. Sold for experimental purposes only.
Warning:
Do not use if pregnant or nursing or under 18 yrs of age. Keep out of reach of children.